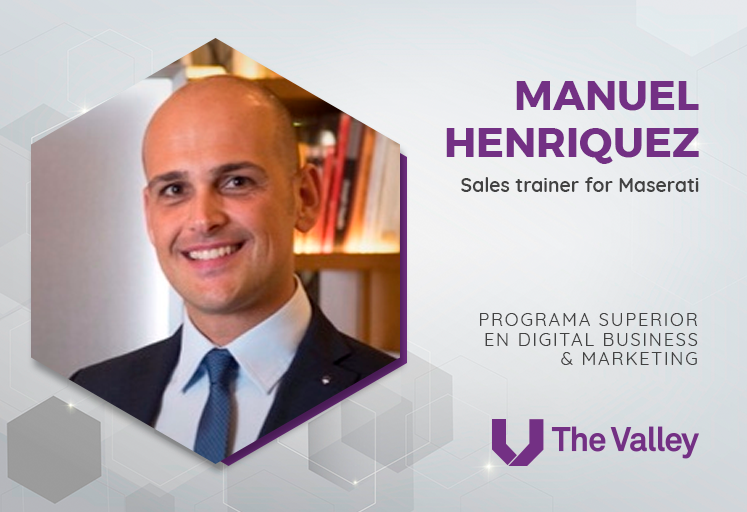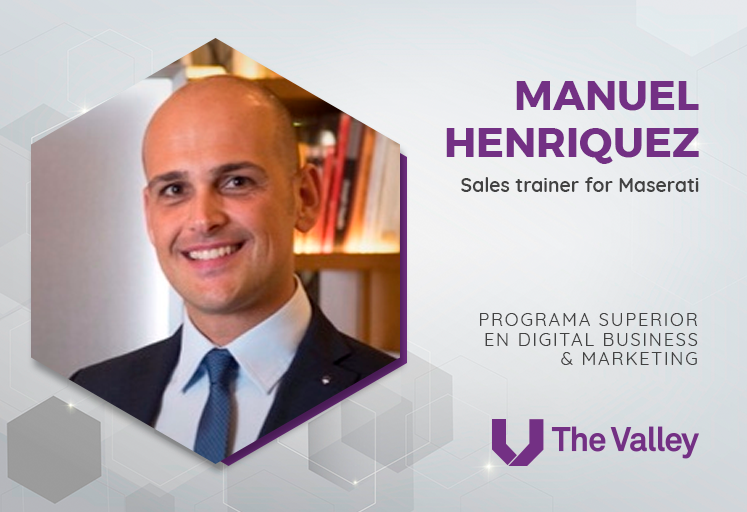 Manuel Henriquez es alumno del Programa Superior en Digital Business & Marketing (PSDBM+) en The Valley Canarias. Trabaja como Sales trainer en Maserati. Estudió Marketing y Comercio Exterior en Las Palmas. Profesionalmente comenzó en el importador para Canarias de las marcas del Grupo Volkswagen, primero como asistente de los jefes de producto de Volkswagen, a continuación como responsable de planificación de la marca Audi durante un año y medio. A partir de ahí y durante cinco años y medio fue responsable de formación para todas las marcas en Canarias y formador para Audi en Latinoamérica. En 2010 inició su andadura en solitario como formador para Audi en Latinoamérica, para AUDI AG, Audi España y Maserati y otros clientes fuera del mundo del automóvil.
¿Por qué decidiste realizar una formación en el sector del negocio digital?
Por ampliar mis conocimientos en un sector que me atrae y que definitivamente tiene mucha repercusión en cualquier campo. También me permite en un determinado momento ampliar mi cartera de servicios o eventualmente reorientar mi carrera.
¿Cuál es el motivo por el que escogiste The Valley?
Principalmente por la cercanía ya que estudiar en Canarias es importante para mi. Además me parece que como programa de iniciación es interesante y útil para determinar si es el camino adecuado.
¿Cómo consideras que ha impactado la digitalización en tu sector y en qué etapa crees que se encuentra?
La digitalización afecta a todos los ámbitos. En el caso de la formación en algunos casos hay ciertas áreas que están digitalizándose pero aun falta mucho por hacer. En el caso de la automoción, el coche conectado empieza a ser una realidad pero aun no está disponible todo el potencial. Además desde el punto de vista de la venta, el concesionario aun tiene un largo recorrido por delante para alcanzar una digitalización.
¿Cómo ha cambiado tu trabajo y evolucionado tus tareas con la transformación digital?
Como formador cada vez incluyes más metodologías basadas en digitalización, contenidos audiovisuales, gamificación y soportes que transformen el modelo educativo.
¿Qué crees que el Programa Superior en Digital Business Marketing ha significado en tu carrera profesional?
Aún es pronto para decirlo, pero definitivamente y hasta el momento me ha aportado una visión más cercana del negocio digital, de cómo funciona, de qué modelos se pueden adoptar/exportar y de que el mundo de posibilidades es infinito.