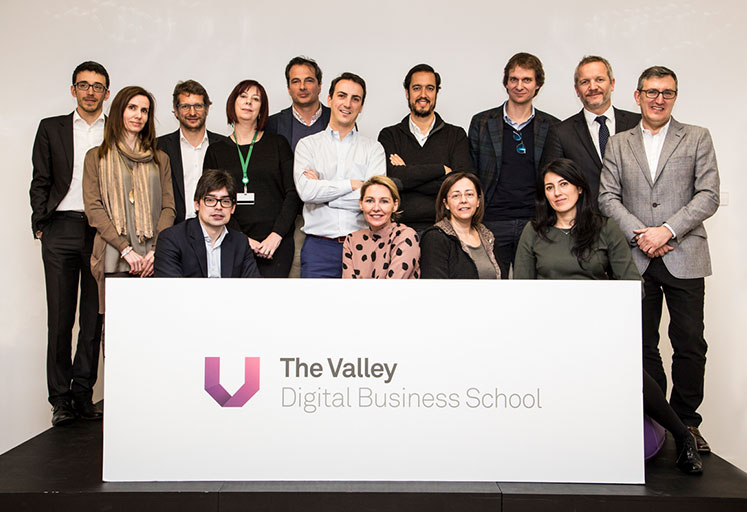 Desde The Valley hemos querido dar un paso más en el compromiso por la enseñanza y la actualización digital, con la creación de un Consejo Académico. Formado por profesionales del mundo digital, hemos unido a pure players, empresas representativas de los sectores de actividad y emprededores para conformar un conjunto de expertos que definan las nuevas tendencias del sector digital y sus necesidades formativas.
En esta primera reunión, que tuvo lugar en la sede de la escuela, y tras una presentación de la iniciativa y los asistentes, de la mano de Arantxa Sasiambarrena, CEO & Partner de The Valley DBS y Juan Luis Moreno, Chief Strategy & Operations Officer en The Valley DBS, empezó el debate entre todos los miembros, donde se compartieron experiencias y diferentes puntos de vista.
Los expertos han estado de acuerdo en la necesidad de impulsar un cambio de cultura en las empresas con el fin de conseguir una digitalización real. Para ello, es necesario fomentar nuevos métodos de trabajo más creativos y productivos que permitan construir un modelo diferente.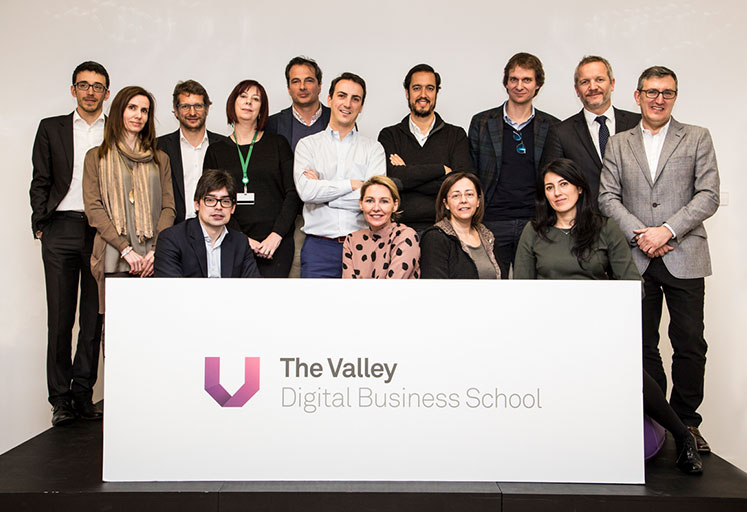 Como conclusión, todos los miembros del Consejo Académico acordaron que la transformación digital significa llevar a cabo cambios globales que influyan en el modelo de negocio, en los procesos de trabajo, en la relación con los clientes, en la tecnología, en los productos y oferta al mercado y en cambios culturales  u organizativos.
El consejo académico se reunirá cuatro veces al año en las instalaciones de The Valley y está compuesto por los siguientes miembros:
Blanca Gómez (Talent Acquisition Director West Europe en Microsoft)
María Ferreras ( Director Youtube Partnerships, Southern Europe and CIS en Google)
Pablo Marín (Global Business Manager IoT en Telefónica)
Oscar Caballero (Chief Digital Officer en Orange)
Adolfo Ramírez (Director General Adjunto en Banco Santander)
Rosalía Lloret (Director Institutional Relations en Online Publishers Association Europe)
José Fernando Rodríguez Rincón (Digital Strategy Corporate Director en Mapfre)
Chema Fernández (Chief Digital Officer en El Corte Inglés)
Carmen López (Head of Interactive Iberia en Accenture)
Esther Clemente (Directora de Formación y Gestión del Cambio en Endesa)
Alejandro Touriño (Partner, Head of Information Technology en Écija Abogados)
Miguel de Reina (Customer Relations Officer en Zenks)
Andrés Dancausa (Partner & advisor en iAhorro.com)
Juan Teijeiro (Managing Partner en Cube Ventures)
José del Barrio (Socio Fundador de Samaipata Ventures y co-fundador de La Nevera Roja)
Oscar Cubillo (Director of Development & Growth en Fundación Universidad Empresa)
David Bravo (socio-fundador del Grupo Ontwice)
Asimismo, cada uno de los componentes de este Consejo Académico "apadrinará" a un alumno universitario que vaya a cursar el Máster en Digital Businesss para recién titulados (MDBU+). Un programa impartido por The Valley DBS y cuyos alumnos son seleccionados a través de la FUE (Fundación Universidad-Empresa), para impulsar su formación en el sector digital.