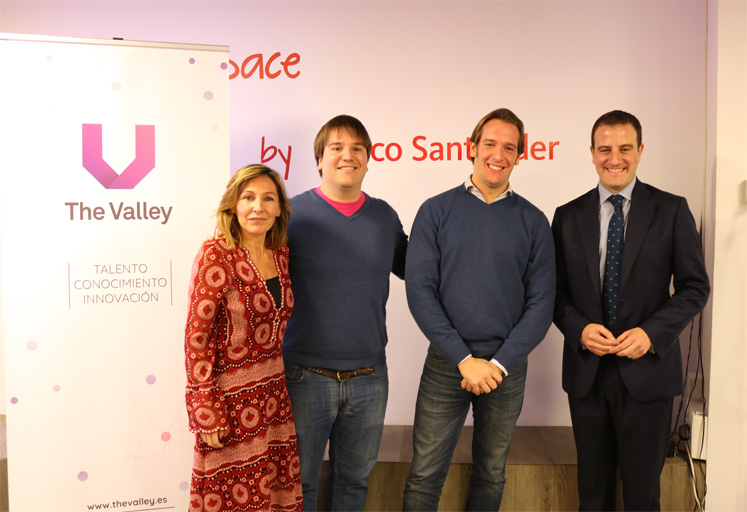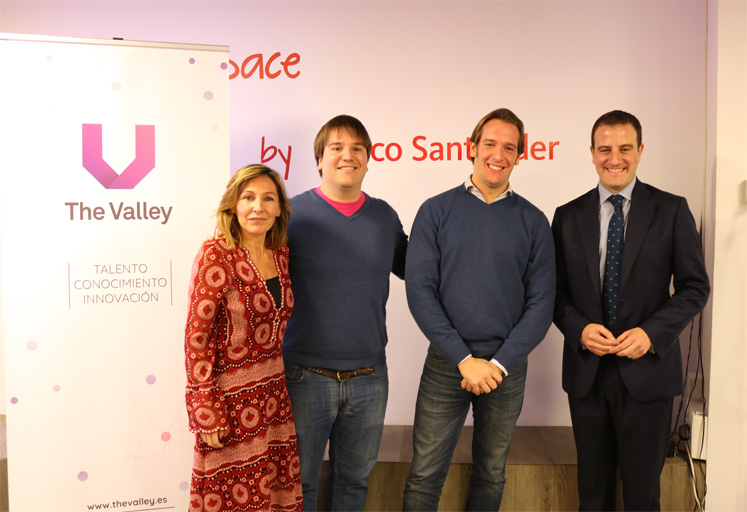 Entre los seis finalistas seleccionados, BNext ha ganado el Fintech Open Challenge creado por Banco Santander y The Valley. El proyecto, liderado por Guillermo Vicandi, CEO, y Alfonso Sainz de Baranda, CGO, ha conseguido alzarse con el premio de 10.000 € destinados a invertir en su negocio.
Un jurado compuesto por diez miembros pertenecientes al Banco Santander y The Valley eligieron al proyecto ganador mediante dos rondas. En la primera, tras una presentación por parte de cada una de las start-ups, se seleccionaron tres finalistas: La Bolsa Social, BNext y Fintep. Durante la segunda ronda, las tres start-ups respondieron a las preguntas de los miembros del jurado, donde aclararon dudas y completaron los puntos clave de la presentación. Finalmente, el proyecto más votado fue Bnext, que se convirtió en el ganador del Open Fintech Challenge de The Valley y Banco Santander.
La startup BNext facilita construir a cada cliente su propio banco. Con un completo portfolio de productos financieros, BNext permite depositar dinero en una cuenta propia, realizar pagos con su tarjeta y contratar préstamos y otros productos en el Marketplace de la forma más sencilla
La herramienta que han usado los jueces para valorarla ha sido Nextinit, plataforma que permite a las empresas desarrollar las soluciones más innovadoras, a la vez que potencia el engagement, el cambio cultural y la detección de talento.
El jurado de este primer Fintech Open Challenge ha estado compuesto por diez personas pertenecientes a ambas entidades: Adolfo Ramírez, Director General Adjunto en el Banco Santander; María del Mar Ruiz Andújar, Directora Mkt. y Producto en Banco Santander; Carlos González Díaz, Director Área- Costes en Banco Santander; Luis Colorado Ruiz, Head of Digital Banking and Innovation Spain en Banco Santander; Manuel Iturbe Robles, Director Red Santander España en Banco Santander, Arantxa Sasiambarrena, CEO de The Valley; Ana Delgado, CMO en The Valley;  Carlos Llagostera, Co-CEO and Founder en Talent Republic; Juan Teijeiro, Managing Partner at Cube Ventures & Keyword VC y David Bravo Martín, CEO Ontwice: & Socio fundador The Valley.
Finanbest, La Bolsa Social, Fintep Solutions, BNext, Winvestify y Hoppin han sido los otros proyectos que han optado a esta final celebrada hoy en la sede de The Valley.
Esta competición, fruto de un acuerdo de colaboración firmado por ambas entidades, se creó con el objetivo de promover la innovación en el mundo de los servicios financieros online y para identificar talento y oportunidades de negocio.