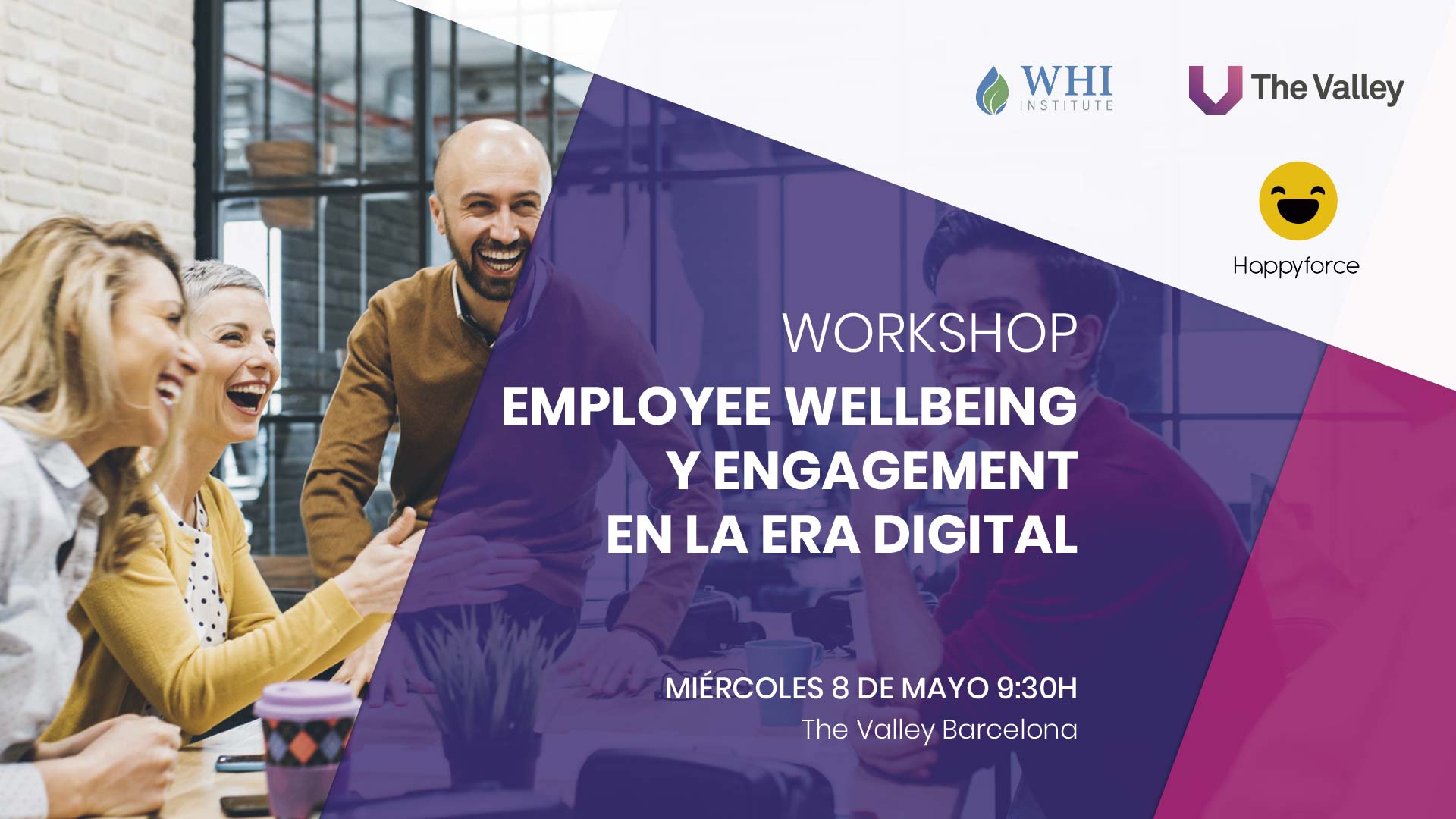 Workshop: Employee wellbeing y engagement en la era digital
The Valley y WHI-Institute se unen para abrir un espacio experiencial de reflexión y aprendizaje al que invitan a directivos del área de Personas, Directivos Generales y CEO para descubrir cómo romper barreras que potencien el engagement y el employee wellbeing en las organizaciones que se encuentran en procesos de transformación digital.
¿Puede la innovación potenciar la madurez digital y humana en las organizaciones? En un entorno digital y de incertidumbre constante se hace necesario generar una alianza entre la tecnología y la innovación, entre lo digital y lo humano. Para que las personas se abran y se dispongan a expandir su talento plenamente, necesitamos comprender primero las causas del desgaste organizativo, de la soledad del directivo y de la búsqueda de sentido.
Con este workshop queremos poner a tu alcance las claves que potencian el wellbeing en el lugar de trabajo y renuevan comportamientos de liderazgo que inspiran a la organización.
Objetivos del Workshop:
• Compartir. Conocer las causas del burnout organizativo y de la soledad del directivo.
• Sensibilizar. Sobre lo que nos prepara para las decisiones que se han de tomar en entornos cada vez más complejos y cambiantes.
• Aprender. A abrir y generar espacios de confianza, de curiosidad y relaciones nutritivas.
• Consolidar. Cómo se implican las personas en el desarrollo de sus propios talentos y comprender las claves que hacen posible la expansión de competencias.
El workshop será liderado por Ángela Jordana, Co-Founder de WHI Institute; Eva García, Business Development Director en The Valley Barcelona; y Alex Ríos, Happyforce CEO & Co-Founder.
Y si estás buscando formación para liderar la transformación digital desde el área de RR HH, no dudes en echar un vistazo a nuestra Especialización en Digitalización de Recursos Humanos EDRH+, en donde descubrirás iniciativas y experiencias novedosas sobre el liderazgo digital, el cambio cultural, nuevos modelos organizativos y metodologías de trabajo.
Programación horaria
9:30

-

9:45

Presentación Workshop

Claves que generan "engagement y wellbeing" en entornos de incertidumbre y digitalización
9:45

-

10:15

La soledad del directivo

Su impacto en la cultura y la salud de la organización: "facts & figures"
10:15

-

11:00

Práctica experiencial

identificar las claves para ganar excelencia y desarrollar talento en entornos VUCA
11:00

-

11:30

Indicadores y Métricas

Midiendo el compromiso 'Talent y Wellbeing engagement' KPIs