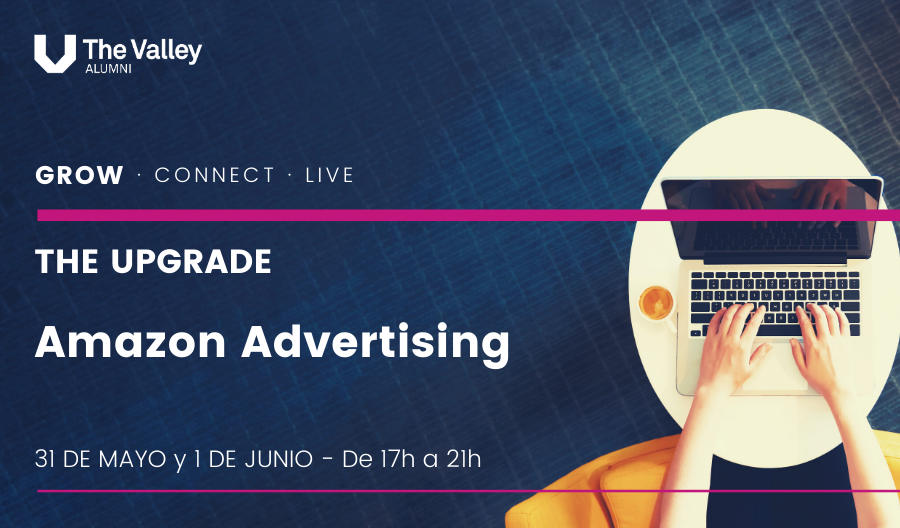 The Upgrade | Amazon Advertising (formato presencial remoto)
Conoce todas las herramientas de Marketing y Publicidad que Amazon nos brinda para poder incrementar las ventas de una forma rentable y eficiente. Con un enfoque práctico y aplicando la metodología learning by doing (propia de The Valley) aprenderás las habilidades para desarrollar una buena estrategia de posicionamiento orgánico e inorgánico con el objetivo de aumentar las ventas, mejorar el tráfico e incrementar el reconocimiento de la marca.
Durante la formación aprenderás las claves para convertirte en un experto en Amazon Advertising.
Temario:
1. Fundamentos
Las claves de Amazon
Últimas tendencias
El auge de los especialistas en Amazon Advertising
2. El Ecosistema de Amazon 
Retail, Marketplace & Media
Amazon Business
Amazon Basics
Vendor Central
Seller Central
Logística de Amazon
3. ¿Cómo vender en Amazon? 
Primeros pasos para comenzar a vender en Amazon
ASIN
Algoritmo A9
Product Listing Management
Cómo posicionar mi catálogo en Amazon
El impacto del COVID-19 en Amazon
4. Herramientas de Marketing en Amazon 
SVS
A+ Premium
Deals
Vines
ABA
Paquetes de Marketing
Specials Events
Análisis Black Friday 2020
Workshop
5. Amazon Advertising 
Programática
Search
Sponsored Products
Brand
Video
Ads
Brand Stores
KPIs
Keywords
Reporting
Workshop
6. Taller Amazon Advertising 
Profesor: Álvaro García, Online Key Account Manager for Amazon en Signify.
Formato: puedes inscribirte desde cualquier lugar ya que es una formación en presencial remoto.
Programación horaria
31 de mayo

-

De 17h. a 21h.

The Upgrade | Amazon Advertising

Primera sesión
1 de junio

-

De 17h. a 21h.

The Upgrade | Amazon Advertising

Segunda sesión