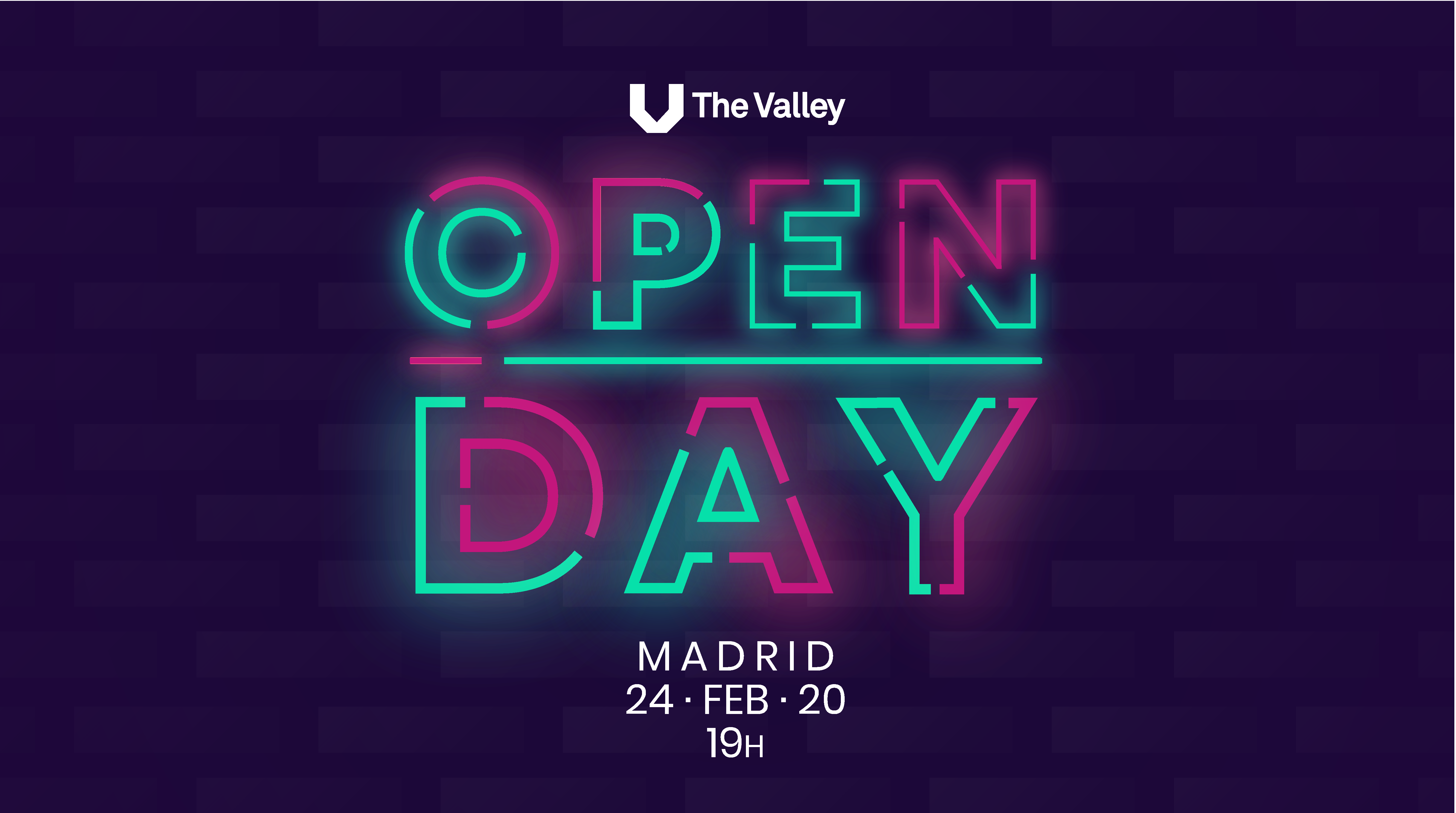 Open Day en The Valley Madrid
La década de 2020 figura como un punto de inflexión crucial para el que deberás prepararte. Te esperan la llegada de la singularidad tecnológica, las ciudades hiperconectadas y plagadas de coches eléctricos, o medidas para sobrevivir a una súper-población de más de 8.000 millones de habitantes. Son tiempos retadores y emocionantes para todo aquel que esté preparado. ¿Tú lo estás?
El 24 de febrero The Valley celebra su Open Day para dar a conocer en detalle cómo podemos prepararte para el futuro, y hablaremos de nuestra metodología, sesiones clave, instalaciones, y las ventajas de formar parte del ecosistema digital más potente de Madrid. En esta jornada contaremos con todos los directores de nuestros programas, que desgranarán al detalle el contenido de las sesiones; con nuestro equipo de admisiones, que podrán resolver todas tus dudas acerca de salidas profesionales y oportunidades de estudiar con nosotros; y con antiguos alumnos, para contarte su experiencia personal sobre cómo estudiar en The Valley ha influido en su carrera profesional.
También te daremos acceso de forma exclusiva al Digital Index, una herramienta que hemos diseñado para medir el nivel de conocimientos y habilidades digitales. De esta forma podrás tener una mejor perspectiva de tus capacidades y así tomar mejores decisiones sobre tu carrera profesional, como por ejemplo, tu formación.
¿De qué programas podrás informarte en el Open Day de The Valley Madrid?
Confirma tu asistencia, ¡nos vemos en The Valley!
Programación horaria
19:00

-

19:15

Bienvenida a The Valley
19:15

-

19:45

Distribuidos en aulas, los directores de cada programa explicarán en detalle los puntos clave del temario
19:45

-

20:00

Antiguos alumnos de la escuela contarán cómo estudiar en The Valley les ha influido a nivel profesional
20:00

-

20:20

Resolución de dudas por parte del equipo de admisiones y los directores de programa
20:20

-

20:35

Visita guiada por las instalaciones de The Valley, incluyendo nuestro espacio de innovación The Place