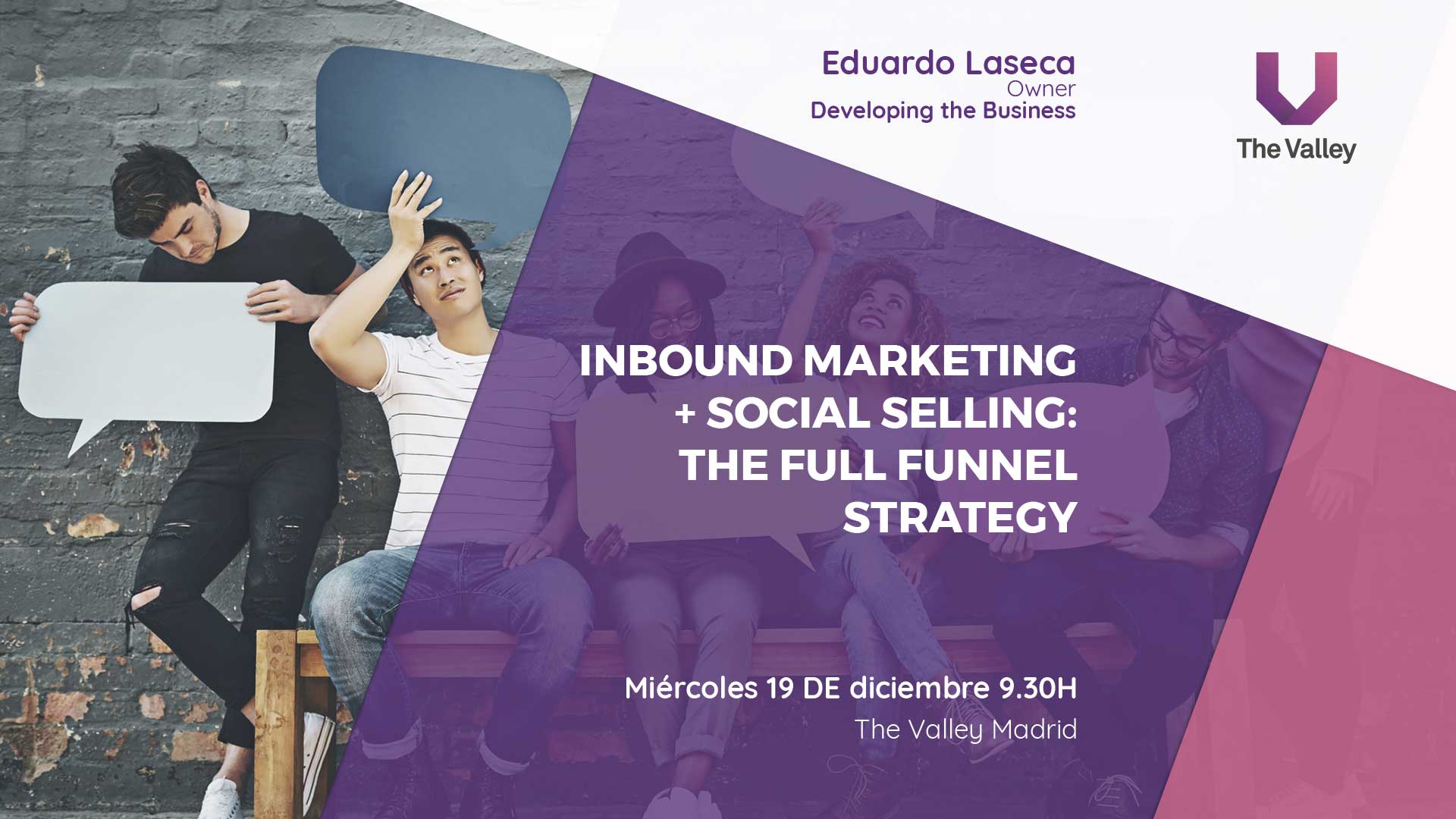 Inbound Marketing + Social Selling: The Full Funnel Strategy
¿Cuál es el mejor enfoque para generar leads de B2B? ¿Atraer potenciales clientes con contenidos o ir a buscarlos? ¿realmente tenemos que elegir?
Estamos viviendo la era del Smarketing, la integración definitiva entre los "viejos enemigos" del equipo de Ventas y el de Marketing. No es una cuestión de In vs Out, sino de saber coordinar y sumar Inbound + Outbound, todo ello reforzado con estrategias de Social Selling.
De la mano de Eloy Montaña y Eduardo Laseca conocerás los fundamentos de una estrategia de Inbound Marketing, la monetización del esfuerzo Inbound y el valor de una base de datos cualificada, y cómo una estrategia de Social Selling multiplica y complementa los esfuerzos Inbound de las empresas B2B.
También presentaremos nuestro rediseñado Executive Program in Digital Marketing, 150h de formación en Inbound+Outbound que te transformarán en el profesional de referencia en tu empresa; y los que se queden al final, les haremos un tour por nuestras instalaciones, The Place incluido.
¿Listo para empezar a generar leads? ¡Regístrate!
Programación horaria
9:00

-

9:30

Desayuno y networking

The Valley
9:30

-

9:45

Bienvenida

Carlos Gómez, socio de The Valley / Alejandro Martín-Cleto, Director de Admisiones
9:45

-

10:20

Inbound Marketing & Monetización del Esfuerzo Inbound

Eloy Montaña, Business Director Europe Increnta
10:20

-

11:10

Social Selling, la Digitalización del Equipo de Ventas y su Integración con una Estrategia de Inbound Marketing

Eduardo Laseca, Director de Developing the Business